The Big Boy V6 MX is a large, full suspension scooter with a powerful, motorcycle engine.
Technical Specifications
Edit
Motor: Morini S6-S (Sport)
Oil Mixture Ratio: 30:1
Top Speed: 50mph+
Range: ??
Clutch: 78mm centrifugal clutch
Transmission: Chain Drive
Tension System: adjustable
Brakes: front and rear hydraulic Magura Julie disc brakes
Wheels: front carbon - rear aluminum
Tires: 3.50-8
Handlebars: mx style (hellbent)
Forks: adjustable dual suspended
Suspension: Noleen oil filled coil-over shocks
Folding: yes
Deck: aluminium
Frame: aluminium
Dry Weight: 65lbs
Available colors: custom
Transmission
Edit
Suspension
Edit

The MX Morini S6-s(Sport)
The Standard TL-43
Brakes.
Throttle.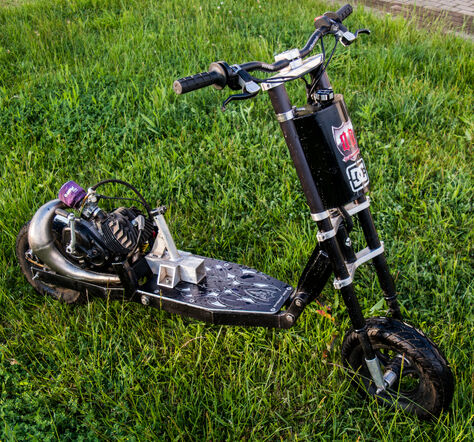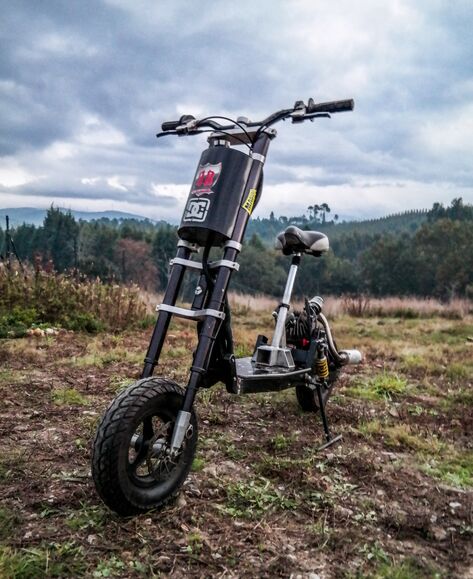 Production
Edit
Reliability
Edit
You'll never have to replace
Edit
You may eventually have to replace
Edit
The clutch shaft and its bearings
Edit
You should immediately replace
Edit
References
Edit
See Also
Edit