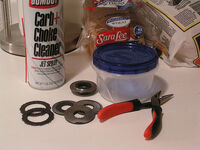 When it comes to clutch, brakes and other friction based systems, the more friction we can effectively produce, the better. Most often, soft metal interfaces will produce more effective friction than hard metal interfaces, but soft metal is hard to work with since it degrades, deforms and will be worn away. This problem is resolved in most cases by a soft/hard metal interface where the wear of the soft metal is planned for.
This guide will show you how to use the process of annealing to soften the metal clutch discs inside of the clutched
Evo
transmissions (
Evo two speed transmission
and
Evo slipper clutch transmission
). After softening these discs, the clutch will catch more easily and more forcefully with less pressure necessary.
Ad blocker interference detected!
Wikia is a free-to-use site that makes money from advertising. We have a modified experience for viewers using ad blockers

Wikia is not accessible if you've made further modifications. Remove the custom ad blocker rule(s) and the page will load as expected.