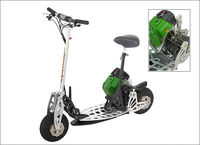 The
Evo 2x
is the first and only production, two speed scooter (with the exception of its little brother, the
Evo 2
). It sports a one-of-a-kind
two speed belt transmission
, knobby
air tires
,
cam-link front suspension
and the exotic
Active 50
engine.
The 2x is a marvel of modern scooter design, not only for it's two speed transmission, but also for various design features which make owning and riding a scooter easier. The 2x features Evo's 1-Touch Tension System, a quick release seat and the unmatched Posi-lock folding system.
The Evo is a very heavy scooter(62lbs), but that suits its primary purpose as a cruiser. Despite its weight, the
Active 50
has no problem pushing the stock scooter to 35-37 mph. With a relatively simple modifications, like gearing change and the addition of a
tuned pipe
, the
2x
can break 40mph.
Ad blocker interference detected!
Wikia is a free-to-use site that makes money from advertising. We have a modified experience for viewers using ad blockers

Wikia is not accessible if you've made further modifications. Remove the custom ad blocker rule(s) and the page will load as expected.