The Goped GTR Interceptor is an on-road version of the Goped GTR. It sports street tires and higher gear ratio than its older bother.
Technical Specifications
Edit
Suspension
Edit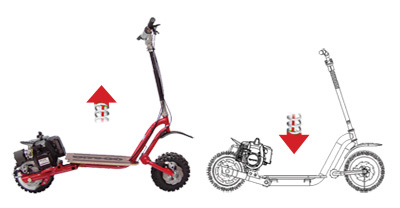 Transmission
Edit
Controls
Edit
Throttle
Edit
Adjustments
Edit
Reliability
Edit
Things you'll never have to replace
Edit
You may eventually have to replace
Edit
Clutch springs, and maybe a cylinder head and ring and piston
The support tube
Edit
The frame
Edit
You should immediately replace
Edit
See Also
Edit
Ad blocker interference detected!
Wikia is a free-to-use site that makes money from advertising. We have a modified experience for viewers using ad blockers

Wikia is not accessible if you've made further modifications. Remove the custom ad blocker rule(s) and the page will load as expected.