The Tanaka Paverunner 400GX is the economy/low-emission off-road scooter released by Tanaka. This scooter is nearly identical to the Bladez Moby Comp
Technical Specifications
Edit
Belt driven reduction transmission
Edit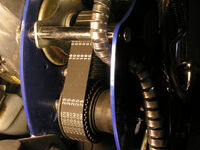 Like the other Tanaka Paverunners, the Paverunner 400GX has a simple belt transmission which connects the drive shaft to the rear wheel. The double pulley, a heavy steel double gear, can be lightened to improve performance.
Rear Pedal
Edit
The throttle is a simple finger lever which operates a bowden cable which is routed down through the support pole and deck to the carburettor of the engine.
Production
Edit
Reliability
Edit
You'll never have to replace
Edit
You may eventually have to replace
Edit
You should immediately replace
Edit
References
Edit
See Also
Edit
Ad blocker interference detected!
Wikia is a free-to-use site that makes money from advertising. We have a modified experience for viewers using ad blockers

Wikia is not accessible if you've made further modifications. Remove the custom ad blocker rule(s) and the page will load as expected.